Archive for the 'Easy vegetarian Recipes' Category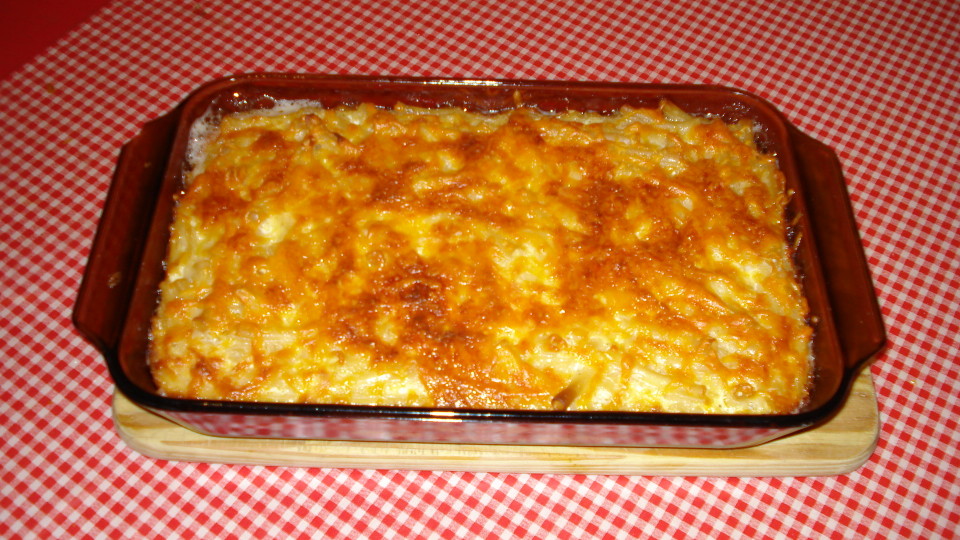 Ingredients:
250 g (500 ml) Macaroni
15 ml cooking oil
600 ml milk
1 Packet (62g) thick white onion soup powder
Pinch of pepper
500 ml grated Cheddar cheese.
Method:
Boil Macaroni in salt water till soft. Mix with cooking oil and keep on hand.
Whisk milk, soup powder and pepper together and add half of the cheese. Mix.
Pour into a fireproof dish of about 20x10x5 cm. Sprinkle the rest of the cheese
on top and bake for 30 minutes in a pre-heated oven at 180°C. Serve warm.
I'm not a vegetarian, but I know a lot of people who are. I also love easy vegetarian recipes. Normally I don't think about it as vegetarian per sé. I mean, pasta can be vegetarian according to the sauce and other ingredients you put in. Veggies are vegetarian, you just leave out meat as your protein source. Any bread is vegetarian.
Usually when I hear about someone who is vegetarian I don't really know what they mean. Some vegetarians don't eat any kind of meat or even milk or eggs. They must be Vegans I presume, because as far as I can find out Vegans endeavor not to use or consume animal products of any kind. Some people who call themselves vegetarians eat fish, some don't eat eggs, some do. A friend of mine says he eats nothing with a face, which resulted in some wisecrack saying "go and paint some faces on the eggs in his fridge". Be that as it may, there are lots of vegetarian dishes that don't take a lot of time and taste wonderful. I hate food that's not tasty. I even have this easy recipe for a vegetarian burger where you just substitute the meat patty with a big mushroom. The mushroom can be fried or barbequed.
I would like to help you find some easy vegetarian recipes. Why do I want to find easy vegetarian recipes? Not because I want to become a vegetarian, but because I love good food and don't always feel like eating meat. There are lots of vegetarian recipes that are both quick and easy and not bland at all. Many Indian recipes are veggie based and I have yet to taste an Indian recipe where the dish tastes like sawdust.
I've been bragging about that vegetarian burger, so here it is:
Before we begin just something about the mushroom you're going to use. It is a Portabella mushroom. You don't have to remove the gills, but some people like to.
Here are some pictures with and without the stem and gills removed: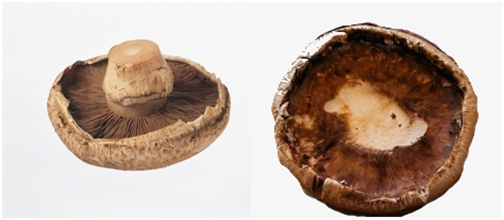 Ingredients.
· 4 medium portabella mushrooms
· 1 medium to large onion (pealed)
· 3 tbsp olive oil
· 3 cloves minced garlic (you can use more or less to taste)
· ½ cup Mayo
· 1 tbsp chutney
· 4 hamburger buns, lightly toasted
Method.
· Remove mushroom stems and keep these separate.
· Brush mushrooms with oil and sprinkle with salt and pepper to taste.
· Heat large skillet or grill pan over medium heat until hot. Add mushrooms; cook until tender (8 to 10 minutes), turning once. Transfer mushrooms to plate, cavity side up; cover to keep warm.
· While mushrooms are cooking chop the mushroom stems and unions. Butter the buns and mix the mayo and chutney.
· When the mushrooms are done, sauté the onion and stems in the rest of the oil. When it is nearly done add the crushed garlic and stir well for a minute or two. Make sure you don't burn the garlic, it turns bitter.
· Place the mushrooms on the bottoms of the buns. Spoon the stems, onion and garlic mixture into the mushroom cavities. Coat this with the mayo mixture. (I like to place some grated cheese or tomato slices on top.) Cover with top part of the bun.
Bon Appétit.
For more interesting info on Easy Vegetarian Recipes check out these blogs:
Rose Elliot's Vegetarian Barbecues and Grills: Over 150 Quick and … – Rose Elliot's Vegetarian Barbecues and Grills: Over 150 Quick and Easy Vegetarian Recipes. Here are more than 150 quick and tasty vegetarian recipes for year-round grilling and barbecuing, from sauces and salads to pizzas, main dishes, …
7 Ways To Find Delicious Vegetarian and Vegan Recipes Easy … – Becoming a vegetarian or vegan is entirely an individual's option and decision. Sometimes when folks determine to turn into vegetarian they struggle with vegetarian cooking simply because they can't find delicious vegetarian recipes. It appears that the choices are a few and the vegetarian diet is supposedly repetitive and boring.
Low Fat Delicious Vegetarian Recipes | Easy Vegetarian Recipes – Simple and Healthy recipes « Quick and Easy Vegetarian Meals : Cooking Tofu for Vegetarian Stir Fry Recipe 350 recipe ideas for busy people. Today, people are will to do anything to lose weight. The result is that in their quest to lose pounds, people are taking such much forceful measures that it ends up harming their health.